Raytheon technologies corporation is a renowned American industrial corporation focused on manufacturing aerospace and defence systems.
Raytheon Technologies' Mission Statement:
"To be the most admired defence and aerospace systems supplier through world-class people and technology."
Raytheon's mission is to utilize its highly qualified personnel and technologies to revolutionize the defence and aerospace systems.
Raytheon has a straightforward mission statement of one sentence that communicates its identity to us.
What does Raytheon do: At the beginning of the mission statement introduces Raytheon's sector of operation. They mention their field of work; Defense and Aerospace systems supplies.
What does Raytheon seek to achieve: Raytheon is committed to becoming the most admired corporation in its sectors.
How will they reach their goal: Raytheon acknowledges their world-class workforce and technologies.
The goal of having a mission statement is to make people aware of the goals a company has as the cornerstone of its operations. Mission statements guide the company, inspire the workers of the company and promote perseverance among them. Raytheon's mission statement serves the goals well.
As one of the most prominent defence companies in the world, Raytheon's primary goal is to hold on to its reputation and its market share in defence. So the goal of being the most admired defence systems supplier is very valid and congruent with their track record.
Raytheon's success has to be accredited to the brilliant minds who innovate and further the advancement of defence. Raytheon's technologies have helped the nation on many occasions.
Raytheon Technologies Vision Statement:
Raytheon vision statement is "One global team creating trusted, innovative solutions to make the world a safer place."
The vision statement of Raytheon technologies delineates the company's dream of becoming one global team working together to ensure safety and security in the world.
The threat to world peace is always existent and Raytheon is dedicated to coming up with creative and trusted solutions to the problems that are present and problems that may arise in the future. As a company that primarily concentrates on supplying defence and aerospace systems, making the world a safer place by eliminating threats is the sole purpose of Raytheon.
The connection between the brand values and the vision of Raytheon is very noticeable. it is demonstrated below: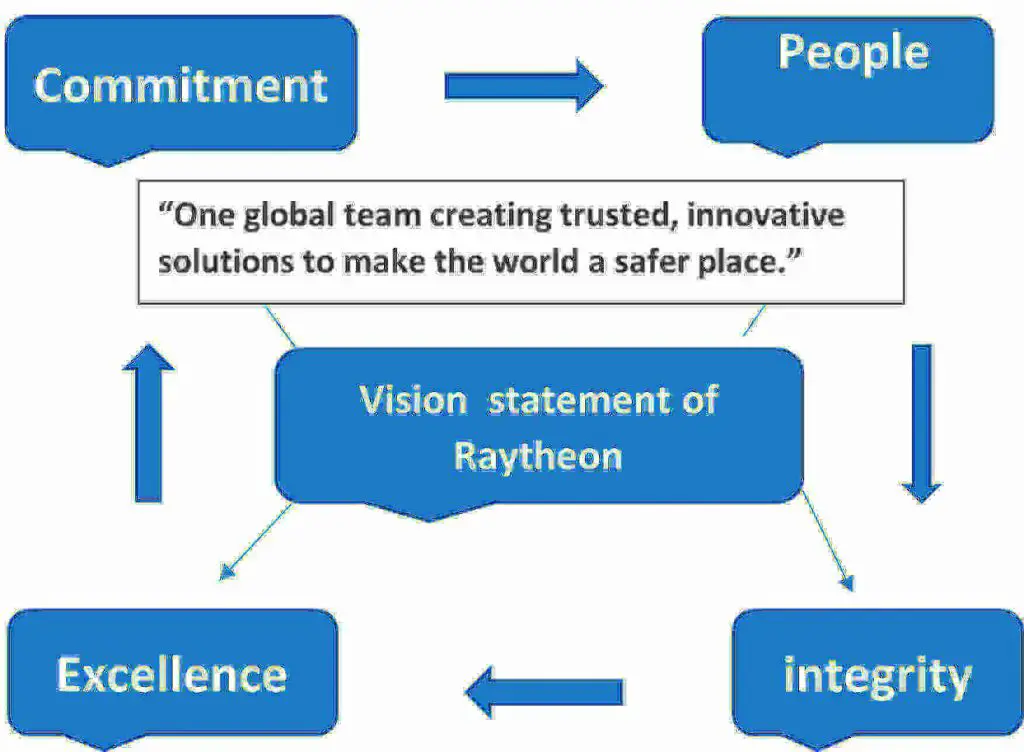 People: the commitment to making the world a better place shows their enthusiasm to help people. Moreover, them referring to themselves as one global team depicts the people sentiments they have. It reflects unity within the company.
Integrity: their decision of using the word trust in the vision statement does indicate their devotion to hold onto their morals and strengthen their integrity.
Commitment: The vision statement expresses their will of solving problems that threaten the world and working actively to achieve a safe world mirrors their commitment.
Excellence: The goals addressed in the vision statement suggests Raytheon's zeal to be excellent in what they do. Unity, trust, innovation, and commitment to make the world a safer place are integral parts of achieving excellence within a company.
The brevity of Raytheon's vision statement is very commendable. It helps people create a mental image of what the company stands for.
Raytheon Technologies' Values:
People, Integrity, Commitment, Excellence
Company Overview:
Raytheon technologies corporation is a major American multinational conglomerate. Raytheon is a large military contractor for the US government.
Company name: Raytheon Technologies Corporation
Company type: Public
Founder: Vannevar Bush, Laurence K. Marshall, Charles G. Smith
Founded: 1922
Employees: 70,000
Headquarters: Waltham, Massachusetts, United States
Three engineers together founded Raytheon in 1922 when one of them had developed a new method of noise-free refrigeration by using compressed gases and static parts. Later they shifted their focus to many other pieces of technologies starting from vacuum tubes to missiles in their long journey. 
During world war II, Raytheon weighed in heavily in defence. They were in charge of developing a microwave radar power tube called British magnetron. They also manufactured radars for navy ships in June 1941. Since the second world war, Raytheon has been affiliated with the defence industry.
In 1980 the company acquired beech aircraft and in 1993 they acquired the corporate jet unit of British Aerospace. This marked the beginning of Raytheon's involvement in aerospace.
READ MORE:
Reference:
https://www.comparably.com/companies/raytheon/mission
Stanley I. Weiss and Amir R. Amir | Raytheon Company| Encyclopedia Britannica| 2016      https://www.britannica.com/topic/Raytheon-Company
http://media.corporate-ir.net/media_files/irol/84/84193/CRR_09/HTML/pdfs/vision_strategy_goals_values.pdf
http://media.corporate-ir.net/media_files/irol/84/84193/RTN_Corporate_Overview_060910.pdf
https://www.rtx.com/Our-Company/Our-Values
Was this article helpful?