World largest streaming platform Netflix Inc. was first started its business in 1997. With over 160 million members in 190 countries, Netflix operates nearly 23 years. After a downturn in business, it bounces back with strategic development.  By subscribing to this platform, one can enjoy hundreds of millions of hours of different content.  Original series, documentaries, and featured films are the offerings of Netflix. It occupies the target audience with personalized offerings which enhance the competitive advantage over the entertainment industry. In the beginning, this company was just a DVD supplier to the local customers, and now it leads the worldwide entertainment industry. In 2021, this company is going to invest 17 billion dollars only for streaming content.
Netflix Mission Statement
Mission and vision statements are the touchpoint of a company. What a company wants to do, how they will do, where they want to see themselves in the future -these all are the key part of the mission and vision statement. Netflix Inc.'s mission statement is, "To entertain the world."  This concise statement shows its wide view of the target audience. This mission statement doesn't portray the three core components of a mission statement explicitly yet it defines the target market and the purpose of the company lucidly. Netflix mission statement incorporates the following elements:  
Service of  Entertainment  
Mass Audience 
 Service of Entertainment:
Netflix Inc. has evolved as an on-demand online streaming platform. They offer the entertainment service includes movies, series, documentaries, feature films in every category of motion pictures. It extrapolates the product category, company's action, and the industry they are operating. Strategically they don't specify any particular product or service but give a glimpse of their served sector. It ensures a competitive advantage as further business expansion will not create any incompatibility with the purpose and mission of the company.
Mass Audience
As the mission statement mentioned, Netflix will entertain the world which indicates its purpose to serve mass people worldwide. The business model of Netflix shows it differentiates services according to a target audience. They create and select content to serve different age groups and distinguish content for mass audiences. To provide a delightful experience, Netflix customizes its service for people to people.
Netflix's mission statement shows the philosophy of being a worldwide entertainment service provider.
Netflix Vision Statement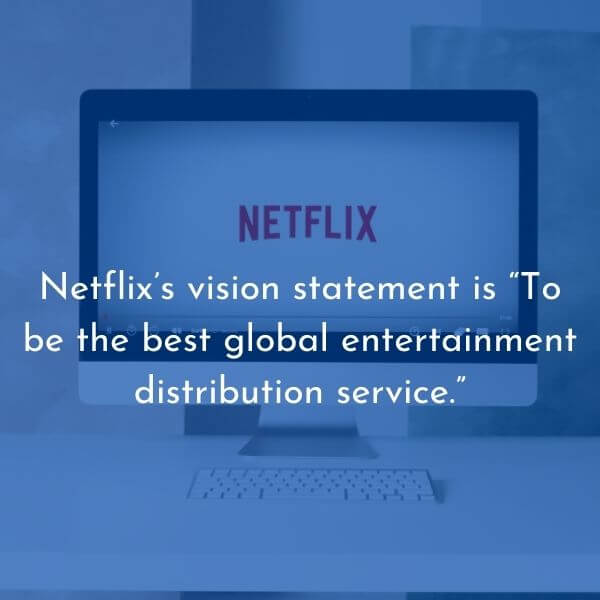 Vision statement depicts the long-term goal and upholds the future desired place. The company's goal and aspiration reflect on the vision statement. Netflix's vision statement is "To be the best global entertainment distribution service." Netflix believes in innovation and integration. It can be demonstrated through its vision. It has become a trendsetter in the entertainment industry. Its lucrative offerings made it a competitive competitor in the industry. Netflix recognizes technological shift, consumers' untapped demand, and an uprising quest for entertaining service. All of these endeavours show the pursuit of being the market leader in the global entertainment industry. Some observable characteristic is found in the vision statement which are:
Global distributor
Best in All
Global Distributor
Netflix disperses itself around the world. By 2016, they enter around 160 new markets with customized products and services. It is no longer confined in a particular area. Netflix operates around the world except for China, North Korea, and Syria. Understanding the market and its customer is a key strength for creating its global presence. With machine learning and artificial intelligence, Netflix reaches the top of the funnel creating specialized content. As a visionary outlook, CEO Reed Hastings creates Netflix's culture as adaptable.
Best in All
In the entertainment industry, Netflix competes with global brands successfully. Giant companies like Amazon Prime, HBO Max, Paramount +, Hulu, Apple TV + are the market player in this industry. Price optimization features give an excellent competitive advantage over the other peers. "Netflix and Chill" has become a daily used term in popular culture. Customer satisfaction and increasing demand give the vibe of being the best in all.
Core Values of Netflix
Netflix creates its value which describes the cultural practice, preference, and fundamental elements of the brand. Like others, these values reinforce the base of the company. The core principle of  Netflix is- " people over process ", which describes an approach to build a great working team where people can work together with fun, excitement, stimulation, and collaboration. Netflix showcases the core value as some specific behaviour and success which they care most about. Those are the following:
Inclusion
Innovation
Passion
Curiosity
Judgment
Communication
Courage
Selflessness
Integrity
Impact
Netflix specializes itself via the core values mentioned above. They emphasize building organizational culture and work environment where freedom and responsibility as their motto. To achieve the goal it dreamt of, Netflix doesn't prefer to compromise with its values.
Reference
The real mission of the mission statement: A systematic review of the literature. Journal of Management & Organization, volume 24, Issue 4, 2018.
Why Netflix is winning the entertainment battle,2020, Digital innovative and transformation
Srishti Behl Arya on new Netflix releases: 'We want to entertain people with amazing, authentic stories', The Indian Express, 2021
Jeremy Bowman, Does Netflix has a competitive advantage?, 2021, The Motly Fool
Related Articles
Was this article helpful?