American clothing company Patagonia Inc. was established in 1973 by The founder, Yvon Chouinard, who developed a clothing empire out of his love for the environment and a desire to create high-quality things that improve people's connection with it. Patagonia's most enduring legacy may not be its apparel but rather its entire brand philosophy. Patagonia has never done any external partnerships, but its concentration, brand vision, and outstanding product have gained popularity in the fashion and streetwear industries. Patagonia's greatest strength apart from its product is telling customers about what is their procedure to make it. Patagonia has used its platform to increase awareness and activism for environmental issues, making it a pioneering model in brand transparency.
Patagonia Mission Statement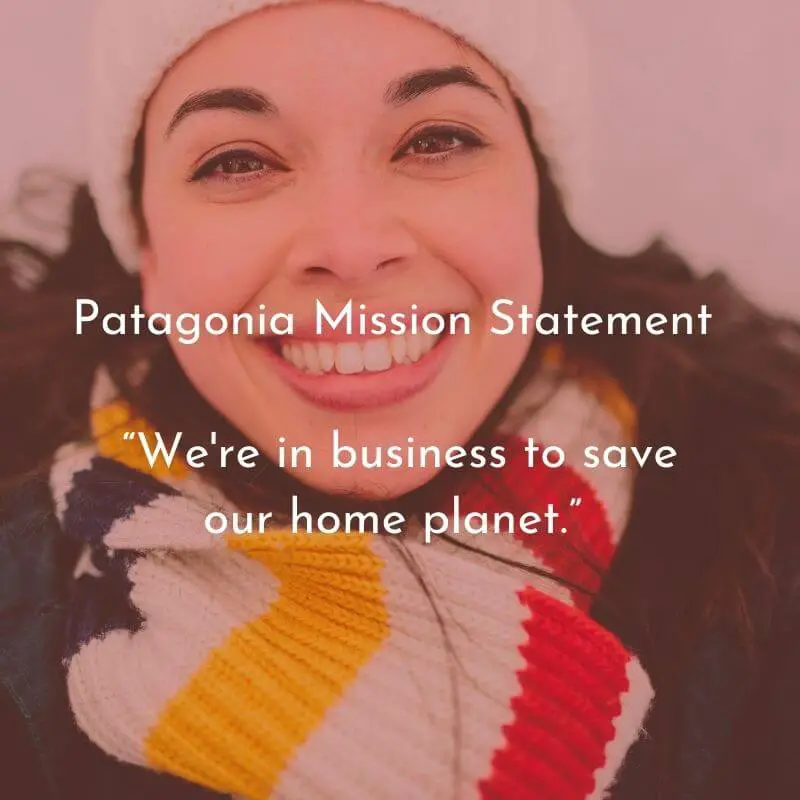 Mission and vision statements are the touchpoint of a company. What a company wants to do, how they will do, where they want to see themselves in the future -these all are the key part of the mission and vision statement.
Patagonia mission statement is "We're in business to save our home planet."
Protecting the environment
Exceptional quality
Improving human livelihoods
Protecting the environment
Patagonia's sole purpose of business is to create an environmentally friendly business infrastructure. They ensure less harm for both humans and the planet. Its outstanding innovation creates such a process that made no harm to the environment. Patagonia has been working on creating a better way to cultivate cotton for the past two years.
Patagonia established a pilot program in India with 450 small farms, here the brand had an infrastructure in place and the farmers were motivated to take on the challenges of a new growing technique. Patagonia has established a recycled-wool supply chain, unlike its fledgling attempt with cotton. Synthetic Insulation and Homegrown Hemp is another initiative to impact positively on earth.
Exceptional quality
Patagonia looked into more environmentally friendly materials and production methods, such as organic cotton, hemp, and polyethene terephthalate, or PET. They discovered a technique to turn 25 plastic bottles into one fleece product, resulting in the unveiling of Synchilla, Patagonia's signature material that best epitomizes the company's mission to provide high-quality products with a reduced environmental impact.
Improving human livelihoods
Patagonia's recycled merchandise philosophy encourages other shops to be environmentally friendly. Ikea has recently introduced a new scheme in which consumers can return gently used furniture for store credit. The program was created to reduce garbage that ends up in landfills.
Patagonia's message connects a target audience who are strongly recognizant with the environment. These customers are willing to pay more money on high-quality products that have a lower environmental impact. The brand was not only able to increase sales by getting into this target population but also enhance consciousness in people.
Patagonia Vision Statement
Patagonia has grown to realize the strong relationship between its company and environmental conservation. This corporation has interwoven its future with that of Earth to be a part of the larger goal.
Patagonia doesn't release any official vision statement yet. They claim that its reason for existing is – To use all of its resources to defend life on Earth.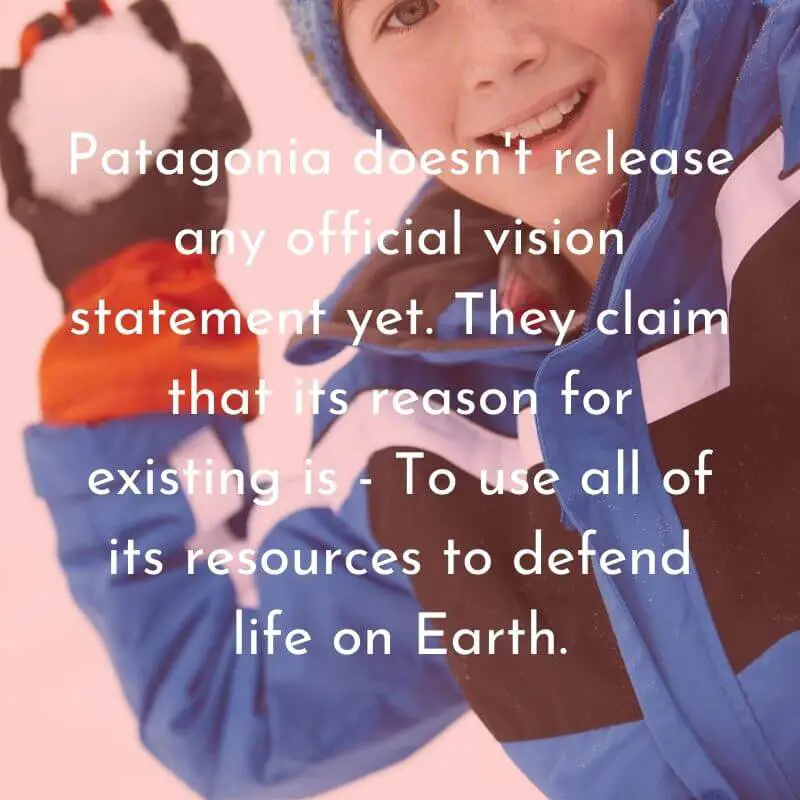 Patagonia's ethical labour policies are another way through which it has contributed to its vision.   It has established a culture that ensures justice for all, including consumers and the environment.
Core values of Patagonia
Patagonia strictly maintains its philosophy and values. The core values are comprised of
Build the Best product
Cause No Unnecessary Harm
Use Business to Protect Nature
Not Bound by Convention
Patagonia addresses an educated and informed audience as well as those who are aware of the realities of the environment, climate change, and sustainable practices. By doing so, the company achieves both of its commitments to create excellent products and prevent potential harm. It eases the strain of resource consumption, which contributes to the safeguard of the environment. As a clothing brand, Patagonia is now going out of its way to promote different projects that comply with its mission and vision statements.
Frequently Asked Question (FAQ)
What is Patagonia's previous mission statement?
Patagonia updated its mission from an elaborated one to a succinct one. The previous mission statement was- "Build the best product, cause no unnecessary harm, utilize business to inspire and implement solutions to the environmental issue."
When did Patagonia change its mission statement?
Patagonia has revised its mission statement as "We're in business to conserve our home planet" in 2019.
Who owns Patagonia?
It is an American corporation and clothing company that markets and sells outdoor apparel. Yvon Chouinard created the company in 1973, which is situated in Ventura, California. Yvon Chouinard is an American rock climber, environmentalist, and millionaire businessman in the outdoor industry.
Why did Patagonia change its mission statement?
Back in the 1990s, Patagonia declared that it did not want to create any unnecessary harm, and it would investigate the environmental impact of its supply chain. Late they expand their view as they must not only endeavour to cause less harm but also to accomplish a greater good. That's why Patagonia changed its previous mission statement.
Reference
 Jian Deleon. "What Patagonia Teaches Us About Building a Brand That Lasts"
Catherine Morin. Patagonia's Customer Base and the Rise of an Environmental Ethos.
Was this article helpful?